***WARNING: The following is a total mindless rant that could threaten your baseball Zen.
Kill Me Now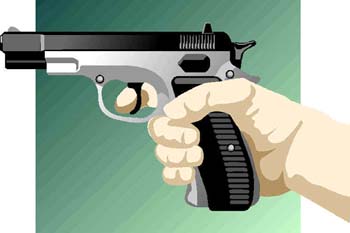 Okay, just take that thing and fucking shoot me. Now. I can't take it anymore.
Allright, folks, the positive visualization is headed down the crapper for me tonight. I just read this on BDD:
Curt Schilling will make his next start in Colorado then will have an MRI and check of the edema in the ankle area. If the MRI shows a change in condition for the worse "we will have to shut him down" according to Red Sox GM Theo Epstein. Curt has had two MRIs, and the second one showed a build up of fluid and Doctor Morgan indicated there may be a meniscus tear at the end of the bone where the ankle meets the joint. It is possible that if 2-4 weeks of rest does not improve the situation, Schilling's ankle will have to be scoped at the end of the season, if he can continue to pitch through it for the remainder of the 2004 campaign.
Fuck. FUCK.
And you say there's no curse on this fucking team. Here we are in the 86th year of our fucking drought, and no sooner does an ownership group finally figure out that PITCHING is necessary to win championships, and actually go and shell out the dough to bring huge, incredible pitching to our staff, than injuries--injuries, of course!!--start not just biting us in the ass but kind of gnawing on it.
Nomar. Trot. Scott Williamson. Curt Schilling. Pedro. Everybody. Fucking everybody. Pretty soon Theo Epstein's going to go down with a groin pull.
Why? Why does God fucking hate us? What do we have to do, where do we have to go to get a winning fucking team? Do we need to make burnt sacrifice at home plate? Do we need to send dirt from Fenway Park into outer space? Do we need to tear down the Citgo sign with sledgehammers? Do we need to rob a bank? Do we need to perform an exorcism?
Oh, wait. WE ALREADY DID THAT LAST ONE.
Kill me. Seriously. Just take a fucking gun and shoot me in the fucking head, so I don't have to watch the rest of this season go by with baseball players dropping like it's fucking Vietnam out there.
Last year our shaky pitching cost us victory. This year it'll be injuries. Next year it'll be management. Or losing free agents. Or something, because there seriously seems to be some mysterious voodoo force at work here.
Lots of people say there's no curse, and everything can be explained scientifically--we haven't had the pitching, the management, the hitting and / or the fielding when we needed them at different points, and racism and revenue and the ballpark and blah blah blah. Well, then, someone explain to me how any baseball franchise wins a championship, because just about all of them have had some type of issue at one time or another--even the Yankees.
Are we seriously just doomed? Was Fenway built over an ancient burial ground we don't know about? Why is it that the horse of all pitching horses suddenly develops friggin' ankle edema or whatever the fuck only when he puts on a Boston uniform? What the hell is going on?
Sigh. I'm sure things will look better in the morning. If not, I'll just jump out the window.