Here's to the Night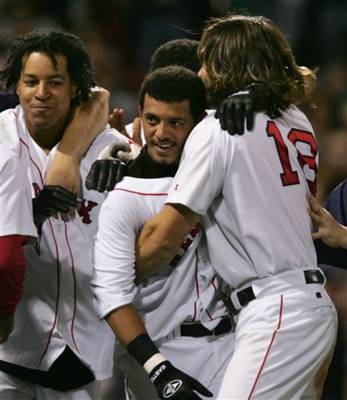 Dontcha just wanna squeeze 'im?

After Bronson finally called it quits, after Mike Myers muddled through, after Scott Williamson set us all on edge and then let us breathe a sigh, after Big Papi's gigante quadrangular, after Mad Mike got the side, now here came Keith Foulke before our kangaroo court, the corrupt bench of public opinion, bearing the shame of the previous night's blown save, the chagrin of last night's credit with the win over the heroic, immense Curt Schilling.
Now here came Keith Foulke, and where Myers may have made me groan, where SWilly may have caused me to question, where Mad Mike had let me relax a bit, my only recourse seeing Foulke, with his compact body, his clean home uniform white as the first bite of an apple, was to sit back in wounded skepticism, arms folded, eyebrows raised, an attitude of self-defense that, of course, would prove spectacularly ineffective.
Rafael Palmeiro hobbled to the plate with his ailing hamstring, managed to stand in long enough to hit a home run into the right-field stands so high it may well have rebounded off a jetliner before returning to the park; so rinky-dink that it just brushed the pole on the way toward fans enacting Carlton Fisk's famous dance in reverse.
The score was tied, and Foulke had done it again. Again. Again. Again.
But the previous night's win had reinvigorated the Red Sox in ways we may see play out for as long as there is baseball to be played. The Fenway crowd merely changed its expectation from "Foulke will blow away the side" to "The Red Sox will restore justice in the bottom of the inning."
But that, too, was not to be. With Dave Roberts at third for another bottom of the ninth, Orlando Cabrera hit a chopper to Melvin Mora that Mora barehanded and winged to home plate, seemingly, in replay, with all the frustration inherent in distant third place (could that be the reason for the Orioles' audacity?) leaving Roberts out by ten feet.
Now the Fenway crowd deflated. Three more interminably scoreless innings would follow, with a parade of pitchers and failing hitters. During the eleventh, Doug Mientkiewicz took flight, Pokey-style, to rob Palmeiro of a sure double. After gloving the ball about eleven feet in the air, Mientkiewicz came down so far and so hard that he wound up on his butt in the dirt, legs splayed out, while fans and fellow players alike pointed toward him as if he'd suddenly grown a new appendage, while a bubble of gum slowly worked its way out of his mouth, a universally communicative manner of gloating for baseball fielders everywhere.
In the twelfth, as my work-scheduled eyes began to forcibly close themselves, Curtis Leskanic came in with his strange and irritating delivery--arms ratcheted up over his head, pause...flail about mysteriously...throw. Curtis proceeded to load the bases with one out.
Jay Gibbons, the Orioles somewhat nondescript right fielder, took the plate, and then set in motion one of the most beautiful, if not the most beautiful, double-plays that Fenway Park has ever witnessed.
A slow bouncer, gloved by Mientkiewicz, and that unique double-play beauty-within-a-beauty, the gasp as players and then spectators realize what's possible, went up. It was followed by another, the tensed wait as an entire infield launches itself into full-on acrobatics, and another, the gathering roar as the final pass of the ball nears its target, and another, the vindicated yell as the last umpire punches the air. That's the real appeal of a double play--it is an endlessly compound blessing.
Here, Mientkiewicz, advancing halfway up the first-base line, flung the ball toward Jason Varitek, who awaited it with one foot holding down hold plate, forcing Miguel Tejada out. Mientkiewicz gave way to Pokey Reese, who fielded Varitek's throw at first in the precious nanosecond before Gibbons' toe met the bag.
There went the umpire. Leskanic let out a rebel yell, quickly drowned out by the thunderous reward Fenway rained down on its team.
Orioles reliever Rick Bauer, a dead ringer, in my book, for BJ Ryan, took the mound, while Orlando Cabrera stepped to the box, wearing his skeptical batting-face: eyebrows raised, jaw slack, lips closed, eyelids fluttering around wide pupils; Bauer worked a two-two count on him, then grooved a pitch, trying to finish Cabrera off; Cabrera got all of it, and there it went, up, up and away, a Red Sox win air-mailed to the fans in the Monster Seats, who greeted it--young and old, male and female--in strangely similar victory stances across the section: feet apart, chest puffed out, two clenched fists upraised.