Common Prayer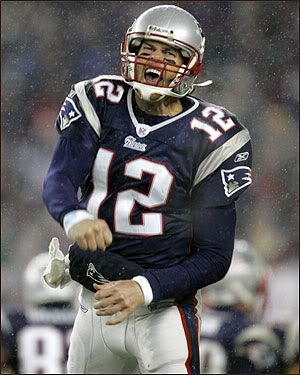 This morning found a small colony of moths swarming around my gut. I woke up at 9 am (early for me on a weekend) and couldn't go back to sleep for all the twisting and squirming in my abdomen. The Patriots - Colts game was literally the first thought I had today.
I did some thinking about this over the past week; why would it be so important to me, after my city and my region have seen two championships in the past calendar year, that my team currently playing win another one?
I arrived at Michele's house fashionably late; we beat on the bongo drums Christina's pagan mother had left at her house after "Women's Circle" Friday night, laughing about how we were drumming to summon the spirits for Tommy, and various small talk ensued, and finally I said, "I bet there's pre-game hype on..."
A pause.
"I'm uh,...I'm kinda dyin', here." I said sheepishly.
We watched some of the Eagles game, and I found myself rooting for the Eagles on behalf of Mer, and because I think a Pats-Eagles Super Bowl would be great (although I cringe to imagine the email exchange). But I was distracted. I kept flipping to CBS, waiting for college basketball to be over. I seriously could not wait another minute--just to hear Shannon Sharpe blather on about picking the Colts.
When should I be satisfied? When is it enough?
And then there was the pre-game, and the talking heads, and then there was the first half, which was enough to give me diarrhea for a week...
I don't know what it was, as I screamed--screamed--at the television over what was clearly, flagrant pass interference on David Givens in the second quarter, as I hyperventilated and cursed the descendants of Matt Light for all eternity after his false-start penalty took back Corey Dillon's rush for a touchdown in the waning minutes of the half, but suddenly Super Bowl XXXVIII and the hundredth World Series were far, far behind...there was only now, and it was imperative that the Patriots win now.
It wasn't so much that the Colts were being hyped--that was to be expected. The Pats underestimated--same thing; that's just how we like it. Or that one of my great pleasures in life is to see the Peyton Manning Face come into focus through windblown snow in Gillette Stadium.
It was, I guess, about having a goal. Having something to drive for, to root for, to achieve. Together. It was about regional pride. It was about mentally high-fiving those lunatics shrieking under layers of Polar Fleece in the stands, clutching their frozen beer. About wanting my team, my hometown, to be recognized as superior. It was about wanting to see Tedy Bruschi pounding his chest like Tarzan midfield after tearing the ball out of a Colts' receiver's arms. It was about watching Tom Brady after an absolutely orgasmic nine-minute drive punching the air with his fist so hard, in vindication, in celebration, that he turned himself completely around, his taped heels scraping in the snow.
It was about something that exists, win or lose, in places like Gillette Stadium, in Fenway Park. Magic. Community. Victory. Vindication. Validation of something unnameable but crucial. At least to me.
And if they lost today, all that would end, at least for this year. And that could not happen. It was imperative that they win, that this continue.
So when Brady capped another masterpiece of a drive with a one-yard rush into the end zone, and jumped up from under the pile after a referee waded in and solemnly raised his arms, as we were yelling incoherently, I made peace with my own greed. It was right, and a good and joyful thing.
Tommy came up after the touchdown and spiked the ball with a vengeance, slamming it to the ground with all the force he could muster, a gesture that screamed, with unbridled joy, "Take THAT!"
And Kellie and Michele and I were letting our cigarettes develop yard-long ashes and spilling our drinks, missing high fives and screaming, which turned into a chant, "Tomm-EE! Tomm-EE! Tomm-EE!" It lasted straight through to commercial.
And I thought then, with purity in my heart: it never gets old.
It. Never. Gets. Old.