Full Tilt, Full Time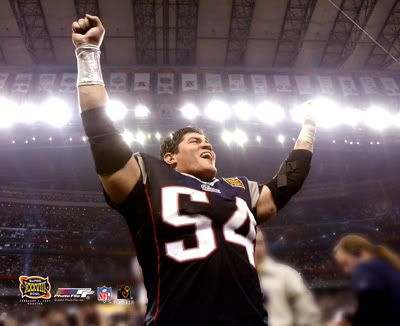 No. There were no walk-throughs in Tedy Bruschi's life. It was full speed ahead, all the time, whether it was on the field, in class, at home, or in best friend Josh Tindall's 1979 Corolla. Bruschi couldn't turn off the intensity as if it were some kind of switch. It coursed through him. It defined him. (Globe)
Among the bumper stickers on the back of my car is a sticker just over the brake light in the rear window about the size of the palm of my hand. It's a miniature Patriots jersey, not #12 as you might expect, but #54.
It's hard not to love #12, of course, any red-blooded New Englander (especially any red-blooded New England woman) does that.
But there are a few of us who for one reason or another are drawn to the spark plug in the backfield wearing No. 54. And in terms of being a role model, hero, dynamo, entertainer, favorite...Tedy Bruschi is probably the Patriot I like best.