S-U-C-K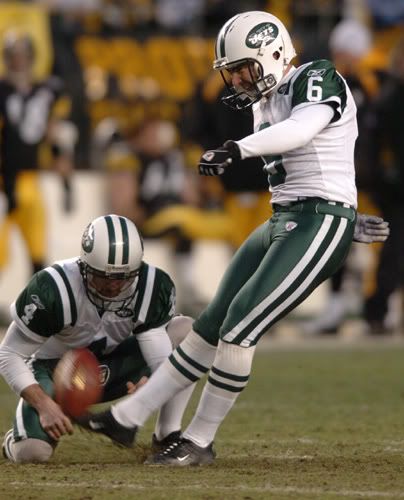 I hate the Jets.
I hate them because they're from New York, and share a division with the team from Boston, which, when it comes right down to it, is the same reason I hate the Yankees.
I understand that most Yankees fans are Giants fans, but the Giants are in the NFC. Just like the Mets are in the NL, and I can't be bothered with them.
But I hate. Hate. HATE. The goddamned Jets.
I hate their legend--slobbering knock-kneed drunk Joe Namath. I hate their coach, the whining, impotent Herm Edwards. I HATE their quarterback, the disingenuous drawling quarterback telling the New York media that they're "privileged" to be covering him.
And most of all? I HATE THEIR KICKER.