Papi Pajama Party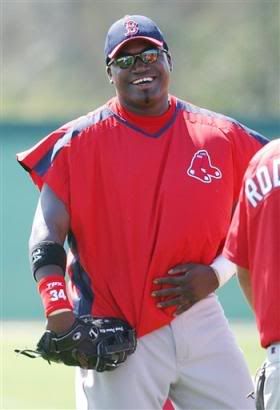 Who else?
Annette
.
Right now, as I post this adorable picture of Big Papi (see also, Curse Of) at spring training, the FOX cameras are zooming in on his hands, and Joe Buck is remarking on how softly the big man cradles the bat.
This morning a coworker left a present on my desk, out of nowhere--a huge, fuzzy Red Sox hooded sweatshirt. After a draining weekend, this--adorable pictures, warm fluffy jammies, cuddling with the boyfriend, Reese's Peanut Butter Cups, the Sox trashing the Cards on NESN--are exactly what I need.
Clever insights into the tough issues are hereby postponed until tomorrow.