So What's the Good News?
Via Hoos on First:
Curt Schilling Interview with FoxSportsNet:
Part I

Choice Quote:

I had an idea of the interest level [in Boston], I had no idea of the energy level. Taking the ball and walking to the mound at Fenway is just a real different thing. Fenway Park is, you know, a century old. It feels like everybody in the park has been around for a century. Their agony and the misery comes out. Their waiting to be upset, their waiting to get mad at you because that's been happening forever, but at the same time they love you like you're their own kid. They want you so badly to do well, but they're expecting you to screw it up. There is a dynamic there between the players and the fans that doesn't exist, I don't believe, in any other city with any other team and it fans.

Choice Quote:

ROSENTHAL: How weird is it for you now that [Randy Johnson]'s a Yankee?

SCHILLING: It's not weird. Um...what a rush? I mean, first of all, it's great for baseball. Unfortunately, the Yankees got another huge contract and can afford it. But I don't begrudge Mr. Steinbrenner one bit. He spends his money on his team. It's going to be weird, seeing Randy in pinstripes. I would much rather face somebody else than Randy Johnson. But it's...my god, I mean, I think about April 3, Opening Day, Yankee Stadium, Red Sox-Yankees. Randy freaking Johnson on the mound. Being able to oppose him. I mean, I don't know that it gets much better than that.
Jose Melendez is getting back into blogging shape for the new season with two incredible posts:
KEYS TO SPRING TRAINING:

Choice Quote:

Well, those sorts of KEYS are all well and good, but they do not exactly get Jose in the shape required for the rigors of the season. Think about it this way. Manny Ramirez may go to the batting cages at Good Times Emporium in Somerville three times a week for 15 minutes, but it's not exactly the same as taking live batting practice. Since November, Jose's basically shown up three or four times a week, done some cursory work and then gone home. That needs to change now. For instance, in preparation for the season, Jose is going to need to build up his endurance. Not only will he need better endurance to write every game day, he'll need better endurance just to be able to get through the Boston Herald sports section. Do you think Jose reads that sort of thing in the off season? Absolutely not. Jose read the Herald today for the first time in months and it left him winded, depressed and discouraged. After all, who needs news on the assassination in Lebanon, when a hero saved a dog from icy waters? If Jose is going to have success this season, he needs to be able to plow through the Herald, the Metro and maybe even the Phoenix without breaking a sweat.

Choice Quote:

Jose's third objection [to Pride and Prejudice] is [Jane] Austen's ridiculous use of alliteration in the title of what is ostensibly a piece of high literature. Alliteration is fine for blogs, newspapers and Harlequin Romances, but for serious literature? Did Dostoyevsky call Crime and Punishment "Perpetrators and Punishment?" Did Melvillie call Moby Dick "Of Water and Whales?" Did God call the Bible "Sinners and Saviors?" Nope. Because they know alliteration is just a little trashy. Yo, Austen, you want to use a literary device in your title? Why not sack up and lay down some enjambent.
The only bad news with this particular piece of good news is that Jose Melendez makes me want to just shut down this blog and quit, because I will never, ever be that good. Or that funny. Or have such a simple yet effective blogging theme.
And finally, via Tatiana: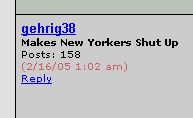 I heart you, Curt.
P.S. There's also this...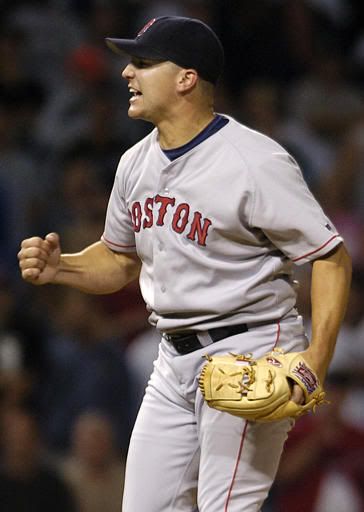 Thanks to
Annette
for completely making my day
Mmmmm hmm.