Today's Spring Training Pic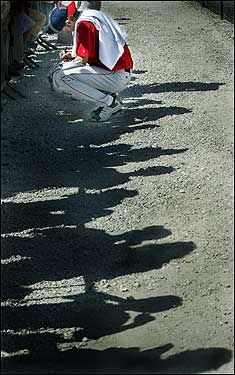 (Boston.com)
The same photographer, Jim Davis (presumably no relation) took this picture, and the one I chose yesterday; I'm rapidly becoming a fan of his.
Once again, the picture is exceptionally composed. The eye travels a column of shadows to the sole standout color--the red of Bronson Arroyo's jersey, a color that Davis seems to have been enjoying quite a bit.
As with the picture of Manny I selected yesterday, the pose in which Davis has captured the player is invocative, symbolic. Arroyo crouches to autograph something for a fan, presumably only crouching to get a better handle on whatever it is that he's signing, but in that pose he takes on a greater significance--a Red Sox player humbling himself before the Boston fans, as has happened so often on a more figurative scale.
But the fans, in turn, are visible only through the photographer's phenomenal use of light--as shadows on the ground. As much as Arroyo strikes a humble pose, the fans are still invisible, immaterial--yet always there, soft ghostly shadows surrounding their beloved...