Today's Spring Training Pic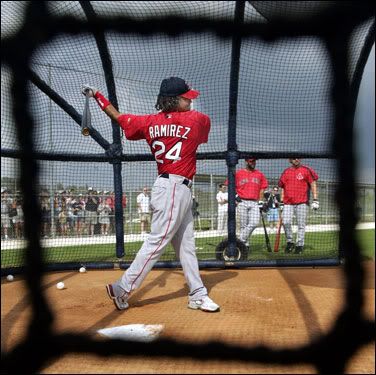 (Boston.com)
Look for this to become a regular feature here...
Spring training is a visual experience. Unlike the dog days of August, where the sound of a radio broadcast of a game melts perfectly into a lazy scene of ice cream cones or lounging on a beach or porch, Spring Training carries with it all of our yearnings for warm weather, green grass, bright colors, bright sunlight, the appearance of our players. Spring Training raises a need to see among baseball fans, especially those in the still-wintry North.
Hence this new feature of mine.
Also, frankly, I love photographs, and there's a visually-oriented part of me that doesn't get a lot of exercise in my life of words, words, words. But when I love a picture, I love a picture. Generally all it takes for me to love a picture is the fact that it compels me to stare at it for grotesquely long periods of time. Often I'll simply jump at a picture, "right-clicking" on the mouse or marking the page of a book or rushing to buy a magazine or poster, without really knowing why it compels me. Then, later, I'm able to piece together why it jumped out at me. This picture fits all that criteria.
First, there's the general composition, with Manny framed within the picture by the netting of the batting cage. Endlessly contemplate-able (not a word. I know.). There's also something so vivid about it--you can smell the grass and dirt, you can feel a soft breeze moving past the lens. Manny himself is frozen in a great pose here, with RAMIREZ standing out starkly white against his jersey, his hair squiggling out beneath his cap, posed with his bat at the exact high point of his follow-through. Manny is almost a symbol of himself here.
The casual stance of Manny's teammates behind the cages, their red jerseys perfectly accenting his. It's got the feel of a medeival painting--tiny minor figures contemplating the larger main subject in some way. And behind them even further, the small crowd of people gathered to watch the batting practice. It adds depth to the shot in a "zig-zag" line--the eye travels first from Manny to his teammates and then to the crowd and back again.
But the ultimate appeal of this photo is the glowering, iron-grey sky behind it all. What a savage color! You can smell that electric tingle from the air before the rains. The grey sky tells you it's spring, not mid-summer; though the midsummer flora (in the form of grass) and fauna (in the form of baseball players and their admirers) have begun to appear, the weather remains volatile and capricious...