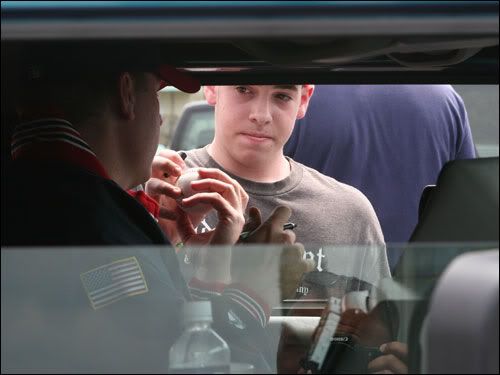 The Boston.com photo gallery I got this from portrays this as the third time Schilling stopped his car to sign autographs for mobs of fans on his way out of the ballpark where he pitched 3 innings to the PawSox (plus Billy Mueller and Jason Varitek, who skipped a trip with the big club to catch and bat against Schilling during this game).
I think my favorite thing about this picture, besides the enigmatic look on the kid's face and the way the surrounding light foregrounds it, is the delicacy of the two hands--the fan's and Schilling's, respectively--around the ball passing between them.
The photographs in this gallery are practically a flip book, and it's clear that multiple photographers were on top of Schilling at the same time, as he tried to leave the ballpark with his family.
He'll probably get more negative attention about what kind of car he's driving, though, than anything else.
I'm really stirring the shit today, aren't I? If only Silva had taken these pictures. Then we could REALLY get something going, here.
Oh, wait...HE DID!
Fire when ready.