Today's Spring Training Pic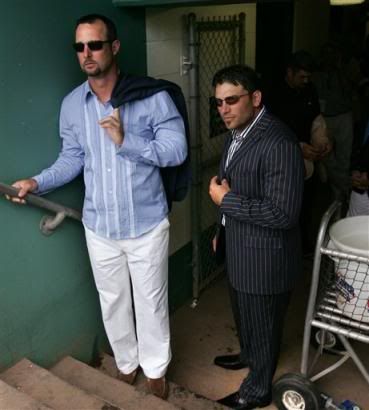 (Boston.com photo)
Your knuckleball battery lookin' shahhhp. Because: hee!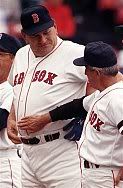 Meanwhile, the big news today is that former Red Sox relief pitcher Dick Radatz, 67, died after falling down some stairs at his home. Radatz, aka "Monster", was heard frequently on WEEI, but most people don't know that he was one of the most feared relief pitchers of the 1960's. According to abc news:
Radatz regularly pitched multiple innings of relief, long before pitchers evolved into one-inning specialists.

"He was a setup man, closer, finisher all in one," said Bill Lee, a former Red Sox pitcher and good friend of Radatz. "He was the best reliever of all time, for a short period of time."

Radatz, who was godfather to Lee's daughter, has a picture of himself in his basement signed by Mickey Mantle. The Yankees legend signed it "The greatest I ever faced," said Lee, noting that Radatz struck out Mantle 54 times in 67 attempts.
RIP, big guy.