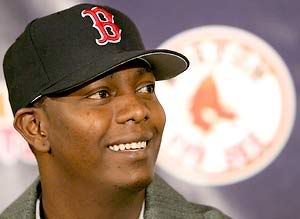 I think that Edgar Renteria is just as cute as a button.
Especially since he seems to finally be getting used to Boston, and has begun hitting and fielding like a Major Leaguer again.
As my previous post indicates, I've been reading Johnny Damon's book, and I'm getting to the part now where he began playing with the Sox in 2002. I'm surprised by how many players he describes as crashing and burning in Boston. Perhaps it's naive of me to be surprised, but you'd think that if someone is getting paid millions of dollars to play a sport, they'd like it better if they were in a place where people cared, where people set upon those not living up to their potential, where people were passionate about the team and the sport itself.
And there are certain players, like Kevin Millar, for whom Boston is paradise--a place where the people he plays for worship the game as much as he does, where people cheer for things other fans in other cities don't even notice.
But it always seems to be touch-and-go when players first begin whether they'll be able to stand up to the pressure or whether they will be begging to be shipped out. There's always this adjustment period, but I'm glad Edgar appears to be coming through it. Like Terry Francona last year, Edgar is just someone that I like. Maybe it's because he has an open and earnest face, and because he seems quiet and disciplined about his play, even if he's not doing well. Which is strange, because I have just as much enigmatic affection for Curt Schilling's outspokenness.
What it comes down to with me is simply irrational. Imagined relationships springing from who knows what arbitrary cues--and likes and dislikes in terms of personalities on the team probably say more about me than about the actual people in question.
A good example of this is my continuing distaste for all things David Wells. Intellectually, I understand that much of my disdain for Wells in the past stemmed more from the pinstripes he was wearing than anything else. If anything, Wells is probably an ideal pitcher for the Red Sox--having spent so many years in the bigs, and in New York, to boot, he's well versed in handling the attention. He always seemed rather a misfit on the straight-laced Yankees--a Hell's Angel among choirboys; perhaps even then more a Red Sox than a true Yankee.
In person, he is surprisingly soft and even-spoken, with a gentle tone of voice and a large vocabulary. His answers during his press conference Friday night were incisive and interesting. He gave insight into a recent bullpen session he called "the best of (his) career."
And yet...
I just can't bring myself to like the guy, much less love him the way I should any member of my Red Sox. I heard a Fenway fan yell out "C'mon, Boomah!" during his start on Friday and cringed. I see him during warmups or off-days with his "Whiteboy" hat on and recoil. And pictures of one's children are nice, but...on one's arm?
If anything, I should like him. Normally I am drawn to people with his darkness, his edge. If anything, I should champion his cause as a fat athlete--showing that people can be fat and fit at the same time, that a thick body isn't a reason to dismiss someone's physical capabilities. At rock bottom, it should appeal to me that we can now take a left-handed starter into Yankee Stadium.
Could be simple residual Yankee-hatred...but I don't think so. I disdained Wells even when he came to town as a Padre.
Ultimately, I think the sad fact may be that I don't want to be presented with my own image. I, too, am a large person with a potty mouth and a chip on her shoulder. I am someone who is often underestimated or who makes a difficult first impression; someone who often feels like she doesn't fit in anywhere. It may be that I irrationally love Curt Schilling because he's what I want to be, at least on the surface, and, at least on the surface, deplore David Wells because he reminds me of my own shortcomings.
After all, no one wants to invest so much emotionally in the fairy tale that is baseball only to find themselves staring back.