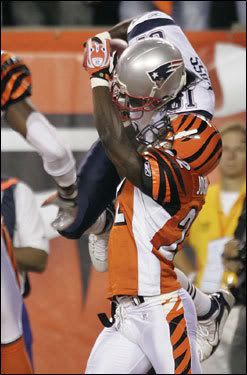 The drive began in the worst way for the Patriots–on a kickoff after the Bengals capitalized on a Brady INT for a touchdown. After some frustrating false starts, both literal and figurative, for the Patriots offense, it had looked as if they might be shifting into some kind of rhythm as the second quarter began, having taken a comfortable 10-0 lead on their last possession on a touchdown pass to a linebacker, Mike Vrabel.
It seemed especially cruel that the pass was to a linebacker, considering Cincinnati's already dire linebacker situation heading in to the night's action, which had only gotten worse as the game progressed. Starter Ahmad Brooks was out with an injury to his groin, as was his backup, Caleb Miller. After just the second play of the game, Lemar Marshall was unable to get up, having ruptured his Achilles tendon. The MNF commentators quipped that Cincinnati would "have to take out an ad in the Post to get another [linebacker]."
Later on, the Bengals would lose yet another linebacker, Landon Johnson. That would leave them with two, count 'em, two, linebackers dressed and ready to play. They began to run some funky defensive schemes indeed, with poor Dhani Jones often the only linebacker on the field, a newcomer to the Bengals with only 12 days' experience in their defensive system.
But for the moment, before Johnson went down, it was the Patriots on the defensive, clinging to a three-point lead following an uncharacteristic error by Brady. Continue reading at MVN ----->