Oddly enough, it was on Facebook this morning that I received the message -- from Curt himself -- that he is officially hanging up the spikes.
He is not universally beloved anywhere, even Boston. We've loved him. We've hated him. We've stood in awe of him and we've mocked him. He's been called our baseball savior and a symbol of our obnoxiousness.
Good, bad, or indifferent, though, you cannot deny his importance. Curt's been at the center of practically every major Red Sox event since he arrived here shortly after the Grady Little debacle in 2003. He's also been at the center of most of the debates.
One massive digital scrapbook below the fold.
"After 85 years, did any of you think getting over this final hurdle and winning it all was going to be a cakewalk?'' --Curt Schilling, January 2004

(photo by Sam)
In another rite of spring, the Sox put in a beautiful performance in Baltimore yesterday afternoon. Curt Schilling was absolutely dominant. He and Foulke, who put in an incredible 9-pitch ninth inning, were, as the radio announcers put it, "as advertised..."
I love Pedro as much as the next person, but he doesn't quite make me salivate the way Schilling does. It's not necessarily that Schill's better--he's just more of a showman. Where Pedro relies on finesse, Schilling strikes batters out swinging, in a way that says, take that, you bastards. -- April 2004
Is it me, or does Curt Schilling have the unlikeliest physique ever? Tiny feet, spindly ankles, reed-thin calves, slightly pudgier thighs, and then, plopped down on top of a string-bean lower body, a Roger-Clemens upper body complete with, as I heard it expressed, "a big front porch." Well, whatever works. -- June 2004
The game Saturday was a gem in just about every aspect. Back-to-back triples. Two-run homers. A command performance on the mound. Why? Because with a start from Curt Schilling, everyone--from the players to the press box--was confident Boston would get a win.
But other than Curt piling up the strikeouts and racking up zeros on the scoreboard, what about the team was different? It's the same group of guys with the bats, right? But while oh-fers abounded in the other games of the Kansas City series, Saturday the hits just kept on coming.
Were there base-running gaffes? Probably. Was third-base coaching inconsistent? Maybe. Did it matter? Nope.
Obviously Curt can't pitch every night. But like I said before, it's the same group of guys with bats backing up every starter on the team. So why is it they only pile on eight runs, enough to win just about any game, when Schilling's up? [...] I would submit that it's simply because every other day of the rotation, those uniforms are just too darned heavy. --June 2004
Schilling was phenomenal and a crafty beast as he waited till the eighth inning to drill Molina. When they ejected Soscia and not Schilling, you just had to chuckle and shake your head. It was one of those games.
 
Afterwards, during his post-game interview, Schilling was pinned under the lights of television cameras, nostrils flared, the whites of his eyes visible all the way around the iris, looking, with his blonde stubble, like a guy who should be standing outside in a plaid flannel coat and fur hat with earflaps, screaming for you to get off his property. It was all I could do not to hug the TV. -- July 2004
And Curt, the Keifer-Sutherland stubble he's been sporting of late... the bags under his eyes the result of the sleeplessness of a recent slump, grimacing and cursing and spitting and hurling his way through as rough-and-tumble a complete-game effort as has ever been thrown, sighing and shaking his head and all but beating his own chest over the Baldelli home run in his post-game interviews. --August 2004
One particularly memorable camera shot during the game followed Curt as he paced around the mound, spitting nails and muttering after Johnny Damon committed another dome-induced blunder in center field. The camera stayed focused on Curt's furious face, but the blur of the background showed that he was stalking around the infield like a tiger taunted with a huge hunk of fresh meat. If he could have gunned down his own teammate with the power of his eyeballs alone, it looked like he probably would have. As it was, though, laser vision has yet to be perfected, and so he turned back around and poured all his rage into his pitches against the hapless Blue Jays, going all Hannibal Lecter on their sorry asses for another few innings before his appetite for vengeance was sated. -- August 26, 2004
And yet when that one blemish comes along, that one fastball left up over the heart of the plate, that goes, as Jerry Remy says, "a long way in the other direction," Curts lips can clearly be read after the inning is over: "Fucking long ball! Fuck!!!"
(photo by cliftonwheatley pro)
Where other athletes have withered in the Boston spotlight, Curt Schilling goes us one better. He stifles our perfectionism with his own. -- Sept. 2004
The game was well in hand--more specifically, in the broad palms of Curt Schilling. Gritting his teeth, flaring his nostrils and swiping one paw across his bristling face every so often, he set about locking down an 11-4 spanking of the Devil Rays, his 20th win and the final work for the Red Sox before heading back to Yankee Stadium, site of all our woes. --Sept. 16, 2004
Once a week, maybe on Wednesday or Thursday, Curt should pick a media type to lambaste, and then call up and give them a verbal bitch-slapping on air. Curt's Bitch Slap of the Week, or The Curt Schilling Bitchslap Hour..., or maybe simply Big Curt Tells It Like It Is. Or, Listen Up, Junior! Or, Curt Schilling Tells You What's What. Or, Curt Schilling Has Had It up to About Here With Your Sass-Mouth. -- Sept. 22, 2004
No mercy. No mercy for Curt Schilling, who was nails through 6 2/3 and then, suddenly, combined for a one-two punch to the stomach of anyone Bleeding Red: he made a three-base throwing error to first when it should have been an out, and came up after the error clutching at his right leg.
I called my father. What the fuck, I asked him. What the fuck.
We'll get out of the inning, he said, don't worry, they got Whiplash up in the bullpen, not to worry, we're gonna win.
But Curt, I said. But Curt.
He'll be fine, my father said, although he was listening on the radio just like I was, and didn't know any better than I did whether Curt would be all right.-- October 6, 2004.
Curt Schilling just credited his Higher Power with what went through him tonight to make him stand up on one shoddy leg and pitch like--to borrow a line from Braveheart--a warrior-poet. "I've never been touched by God like that," he told a reporter in the tunnel at the Stadium.
I don't know what it was. But what Curt Schilling did tonight touched me in a way I never have been. Camera close-ups showed a substance suspiciously like blood soaking through Schilling's right sock as he gritted his teeth and no-hit the Yankees on his first trip through the line-up. The ankle was puffy, and the special NASA shoe that had been noised about was conspicuous in its absence.
Post-game press-conferences confirmed that it was blood. Get this one--his tendon was suctured, you know, like, with stitches, to keep it from popping in and out of location. And while he pitched seven magnificent innings, that was blood soaking through his sock.
But Curt bore down--he re-defined bearing down.-- October 20, 2004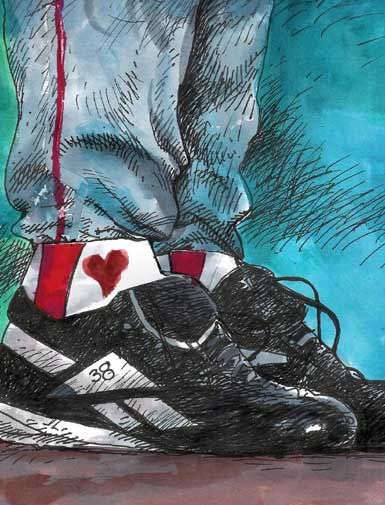 (Originally posted on ESPN.com, artist unknown).
I tell you, at least as far as Schilling is concerned, whether or not the Sox win now is completely immaterial. That man will take a place next to Fisk, Bird, Brady, Yaz, and so on in Boston, and well he should. The fact that he has been willing to put so much on the line--his career, his body, his health, his livelihood, not to mention his pride--for his teammates and for us is something so immensely meaningful to me that I still have difficulty fully figuring out what it is I want to say about it.
I guess "thank you" is close, although, no cigar. It'll just have to do for now. --Oct. 25, 2004
I miss the Red Sox terribly. I miss them like they're a place I'm homesick for. I miss their stupid hair and their sloppy uniforms and their little dugout dances. But I also miss their focus at the plate, the sweet dramas they wove this season of happenstance and luck and a little bit of magic. I miss how naked and accessible their faces were, how you could watch Billy chew his gum slowly, meditatively, at the plate, or giggle at Trot Nixon's raised-eyebrow pugnacity, or indulge in a huge, languid "FUUUUCK!!" from Curt Schilling. -- Nov. 7, 2004
I could have asked for no more touching a sight than Curt Schilling, first borne along royally by a golf cart, and then hobbling the last few steps on crutches, his famous right ankle swathed in bandages, finally stopping near the 20-yard line to hold up the World Series trophy. While wearing a Tom Brady jersey. While the actual Tom Brady cheered from the sidelines. I was in my own personal heaven. -- November 15, 2004
Remember Schilling, scruffy head buried in his wide hands, cowering in the dugout at Yankee Stadium, while the taunts rain down without mercy."Pretty Good Year: Part IV"
How did Curt Schilling do what he did? It's understandable why he would--any competitor, any big-time ballplayer worth his millions wants to be The One, the Savior, wants to put in the effort that makes him immortal. Some people have made this out to be a bad thing, said it as though it's a knock on Schilling. I ask, if there's a ballplayer out there who doesn't dream of being just like Schilling in Game 6, self-aggrandizement and all, what is he playing for?
But how? All the desire in the world didn't put Bill Buckner's glove solidly to the ground. It didn't get Jorge Posada out in 2003. Lion heart or no, there is something more to the way Curt Schilling was not only willing to pitch, but turned out to be able. -- "Pretty Good Year, Part VI"
***
"And now Curt Schilling takes the mound..."
Still hard to tell. Nah, they wouldn't play the loss in Game 1. Why would they do that?
"There appears to be something on his sock, perhaps some kind of medication or ointment to keep heat on his injury..."
Goosebumps. Chills.
Here I was, in the dead of December, seeing my breath while the heat whined and wheezed, working overtime against New England winter, and there was the ballgame on the radio, something I took for granted in July, and September, and even October, and suddenly I ached for baseball, missed the habit of it, missed the game on wherever I went, be it TVs at restaurants and sometimes stores, or on the radio (sometimes you could hear other car radios tuned to the same broadcast and you'd give each other the thumbs up on the way by).--Dec. 2004
As we speak, Curt Schilling is throwing the Red-Sox-starved a bone by playing in the Bravo's "Celebrity Poker Showdown".
It seems like all he's been doing lately is glancing at his cards, looking frustrated, rubbing his face so that his World Series ring gleams in the light, flinging the hand down and folding.
The rubbing the face thing. That's his tell. Especially if he pushes his hat up and swipes at his forehead. I watched him do that night after night on the mound. Wiping one hand across his mouth and then scratching at his nose with his thumb, that's a sign he has a good hand. It's so obvious. Because the forehead thing, that's what happened in Game 1 of the ALCS, and Game 6, and Game 2 of the World Series, when he was hurting and struggling. The hand across the mouth and the thumb to the nose, that was common with a full count and a batter that looked about to wet his pants, as Curt turned to come set and finish him off.
Probably it's a good thing his opponents aren't stalkers Red Sox fans.-- Jan 25 2005
A side-note about Schilling, by the way: so often at BB and other places I encounter Yankees fans, there seems to be a fixation on getting me, as a Sox fan, to admit that Curt Schilling, though a [positive adjective] pitcher, is a [pejorative noun.]
Maybe he is. I don't know. But in the public fiction we are following, from my perspective, Curt Schilling is a hero. Someone who put his body on the line to give the audience rooting for the Sox a happy ending. And personally, I don't care if he's a Christian conservative, which in another public fiction (that of politics) is my archenemy; I don't care, personally, if the guy goes home and drinks babies' blood at an altar to Ba'al and personally campaigns for Ralph Nader. His life as a political or spiritual entity has nothing to do with him as a baseball character, and therefore, is irrelevant to me. And within the realm of baseball, I enjoy the fact that he is outspoken. I enjoy the fact that he embraces being a public figure with gusto. More than just about anyone else, he seems to understand fully the fact that he is a participant in fiction, and in many aspects of his interaction with fans and media has been exactly the kind of savvy, entertaining character Boston needs and appreciates. And he's done Yankees fans a favor, too--he's given them a nice villain, something would have been sorely lacking once Pedro Martinez left the stage.--Feb. 24, 2005
To me, the bottom line is, if someone had walked up to me a year ago today and said: "You guys just signed a pitcher that will be what the Sox need to finally win it all. He will be a leader immediately, dominate on the field, and finally beat the Yankees in their own house while overcoming significant bodily injury to do so. He will then become the first Red Sox pitcher since Babe Ruth to win a World Series Game 2 at Fenway, with the same injury worsening. He will contribute to a four-game Sox sweep of the World Series..."
But then added, "But, you won't like his politics or some of his views on national issues."
I wouldn't have been able to forsee myself or anyone else giving a rat's ass.
Guess that's just me. --March 23, 2005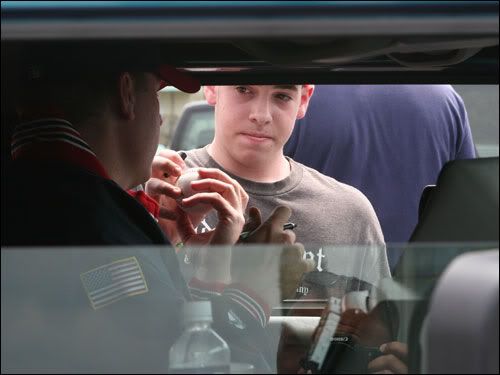 The Boston.com photo gallery I got this from portrays this as the third time Schilling stopped his car to sign autographs for mobs of fans on his way out of the ballpark where he pitched 3 innings to the PawSox (plus Billy Mueller and Jason Varitek, who skipped a trip with the big club to catch and bat against Schilling during this game).
I think my favorite thing about this picture, besides the enigmatic look on the kid's face and the way the surrounding light foregrounds it, is the delicacy of the two hands--the fan's and Schilling's, respectively--around the ball passing between them.--March 23, 2005
I love Curt Schilling in that shrugging way you sometimes love a quirky friend or relative, the one about whom you always answer perfectly justified criticism with "Yeah, but..."
I love Curt Schilling in that determined, I've-made-up-my-mind-don't-confuse-me-with-facts way that some people love our President.
I love Curt Schilling in that irrational, richer-for-poorer-sickness-and-health, eternal way I love the Red Sox.
To me,  Schilling epitomizes and represents all the heroism of last season--it was his thread of the story, clutching at the ankle in Anaheim, imploding in Game 1, returning triumphant in Game 6--most often chosen to illustrate the mind-boggling unlikelihood of the Red Sox' victory.
When it mattered most, Curt Schilling sucked it the fuck up, and he wasn't just enough. He was brilliant.
When it mattered most, Curt Schilling was accountable in the way few people ever are, let alone athletes--the way heroes are. That's what it's about. Accountability. Responsibility. Get on my back, I'll do it, I'll do whatever it takes. David Ortiz is a hero in the same way.
As for off the field--regardless of whether I disagree with his opinions, I happen to personally like the emphatic and passionate--and yes, outspoken--way he expresses them. I enjoy the presence he has when speaking. I like his drama. I like that he's larger than life. If he were just an everyday guy, he wouldn't be doing what he does. --"A Confession," April 14, 2005
About the only great thing about today's game has been my father's running commentary.
"Schilling, what are you doing out there. Go sit down. You're too old for this shit."
"Dad. He is not that old."
"Sure he is. He's not careful, he'll end up like Zimmer out there, rollin' around. One of those young guys will pop him one."
Schilling and David Wells are shown leaning on the dugout fence, and I must agree they are rather grizzled in appearance.
"Chrissakes, look at 'em. They oughta be playin' in the beer league in South Boston." --April 24, 2005
Maudlin? Melodramatic? Yes, I will be all of those.
That moment, when Curt Schilling walked out of the bullpen...I got goosebumps, up and down my arms. The love that was there, the pure adulation, the hero's welcome...I get chills.
There was a sense, with the Sox on the ropes in their bout with the terrible Yankees, of pleading. A welcome, but also a prayer-oh please Curt save us
He's done it before. The bitch of it is, after Game 6 last season, I could not allow myself even the smallest of doubts as he strode toward the mound, ready to make everything better. It would happen.
I felt that stinging rush of belief again, that questioning yes I had forgotten from last year's postseason. A sense of rising up to meet...something. Something greater, something meant, something spectacular.
I had already vowed to recall the sight of Curt Schilling emerging after a 69-game absence to the Fenway grass, for only the seond or third time since his heroism in last year's World Series, for the rest of my life. There was something so profound there.
Now, I will, but not for the reason I had intended. And that, more than anything to do with winning or losing or the fact that A-Wad hit the homer, is why I feel robbed.
You can feel that old cruelty, looking back on this Red Sox moment. Before last year, we might have protected ourselves with an armor of cynicism, might have braced for the worst before it happened. But last year, after the impossible became possible, we let our guard down.
Last night, it feels like we were punished for it. We were, in fact, made complete fools, and I could feel the gloating already beginning from New York, that fan base and phenomenon rising up, vampiric, feeding on our humiliation again. We were clotheslined. Can you blame anyone for laughing?
Has it been a cruel joke? Was last year's win just to refresh our belief, so it can be denied for another eight decades?
That's how dark my thoughts got watching  Schilling's blank face as that bank-shot homer richocheted in the bleachers.
How are we to proceed? -- "Sucker Punch", July 2005
I jumped up and bounced down the stairs, marched myself right up to the bullpen fence, and raised my camera.
Catching me out of the corner of his eye, Schilling turned around. He looked directly at me. He lifted his chin a little in my direction and nodded to acknowledge me. He stood still for at least a good two seconds, looking in my direction.
[...] When Schilling turned and acknowledged me, the same thing happened. I utterly froze. Someone could've hucked a grenade into the vicinity and I probably wouldn't have flinched. Rooted to the spot, my camera halfway between my waist and my face, I just stood there like a complete. goddamn. moron. and looked back at Schilling.
[...] Not only did he turn and look, he nodded and then waited. By my count that's not one, not two, but three chances for me to at least raise my hand in acknowledgement and for fuck's sake, what did I go down there for?
As soon as Schilling turned around, I snapped a picture. Then I ran away.
*headdesk*
"You've got 50,000 people in the park and 49,500 of them couldn't play even play catch with a big-league ballplayer." --Curt Schilling
I can't watch CSPAN with Curt Schilling because he talks over it. And not like normal people do when they just yell at the TV. Curt actually tries to reason with it all, "Yes, Senator, I see your point, but what I'm saying is this." And if you roll your eyes at Curt, he scolds you. And you do not want to be scolded by Curt. --Kristen, on Curt in her IBW
It might have been funny, the way Curt Schilling (sporting a truly strange look with his newly bleached hair) kept getting his pitches slapped--doink. doink. doink. doink...doink--to the same spot on the wall, over and over, you know,...if watching that display wasn't enough to make me curl into a little ball and gag. -- Aug. 30, 2005
Days like yesterday just don't come around often enough. Crystal clear blue skies. Manny finding the homerun swing. Seventy-seven degrees with no humidity. Curt Schilling, bigger than life on stage in the Bronx, shutting down the pinstripes and shutting up the crowd. These are the days you wish you could bottle up and save for mid-January when you've just had a three-hour commute through slush and snow and masses of drivers with IQ's under 100 and pitchers and catchers are still a month away from Florida. But you can't, so you just enjoy it.--Denton
Curt Schilling has had a hell of a year--and not necessarily in the good sense. He's just been pushing and grinding through so much, and all because of what he gave us last year. NESN has been speculating about whether or not what he did last year was a Faustian bargain--whether or not he can do it again in this year's postseason.
All the same, I loved watching him walk off the field today, the fans behind the dugout screaming for him, whipping off his hat and chucking it into the stands.
[...]
No matter how many times I see it, watching the Red Sox pour champagne on each other in the clubhouse will never, ever get old. Not when there are moments like Curt Schilling pouring it slowly, lovingly, even, over Gabe Kapler's head, Gabe on crutches, smiling and gracious. It made me feel approximately 14 different emotions at once.
If you could pour whatever is inside Curt Schilling into Randy Johnson, even at 42, you would have the most dominating left-handed pitcher ever.
But something has always been missing in Johnson's makeup -- big-game confidence, emotional control, whatever it was that Schilling provided Johnson when he pitched the tone-setting games ahead of Johnson as the Diamondbacks beat the Yankees in the 2001 World Series. In the biggest moments, Johnson too often has been a psychological powder keg with a short fuse. --Skip Bayless, Oct. 2005

This day is call'd the feast of the Red Sock.
He that outlives this day, and comes safe home,
Will stand a tip-toe when this day is named,
And rouse him at the name of Red Sock.
He that shall live this day, and see old age,
Will yearly on the vigil feast his neighbours,
And say, "Tomorrow is Saint Red Sock."
They will Schilling with bloody stocking donned again
Up roll his trouser and show his scars to all,
And say, "These wounds I had on Red Sock's day." --Jonathan P. Winickoff
I'll never in my life forget what he did for us in Games 6 and 2, and it'll never stop being the single biggest gift any Red Sox player has ever given me as a fan. --"Favorite Sox" 
Also, just briefly, they showed footage of a Schilling pitch against BC yesterday on the NESN broadcast, and I don't know if it was the camera angle, or the context against a thoroughly flummoxed college hitter or the sound effect, but WOW. The ball EXPLODED in the catcher's glove; it sounded like a shotgun blast. The hitter swung, you could tell, as hard as he possibly could, but that ball was by him as if it'd been fired from a pistol. Just that one pitch was amazing to see. --March 4, 2006
Having missed the last few days of baseball, I watched NESN's SportsDesk OnDemand today and looked on in abject horror at the replays of Schilling's drilling of Pirates center fielder Chris Duffy. The sound it made. It makes me sick to watch it.
I watched the rest of SportsDesk for Remy and Orsillo's analysis, hoping they might say something that could make me feel a little better. Clearly Schilling is throwing at people on purpose--he has said as much repeatedly. After pasting the kid upside the head, he did suffer controlwise in the next few innings, but I don't really think the two are related. That pitch to Duffy was obviously deliberate.
Remy and Orsillo glossed right over it. They said nothing about the fact that this 25-year-old kid was sent to the hospital, or that he had a concussion, and but for the grace of God and batting helmets, it could be worse. I was bewildered.
I called my Dad, the final arbiter of morality in baseball. My Dad will throw his own guys under the bus, no problem, if what they're doing is wrong.
"He didn't exactly cover himself in glory after the game either," he said. "He was saying stuff about how you need to be able to get out of the way of a pitch like that--Christ, that pitch was on top of the kid before he knew what was happening."
I shook my head.
Maybe people don't realize this, but every time I've defended Schilling, every time I've argued on his behalf, I have truly meant what I'm saying. I have not been disingenuous or dishonest. Up to this point, I have been sincere in calling him my favorite and debating with those who think he's a schmuck.
So it's causing me some serious cognitive dissonance today, but right now even *I* think he's a schmuck.
There's no reason to use some kid for target practice during the first spring training game. There's no reason to hit the kid right in the head--and he can't claim he didn't know what he was doing or lost control of the ball. There's just no reason for it, there's no defending it, and for once I am not even going to try. "My binkyism only goes so far," March 12, 2006
Nearing the dugout steps, where Curt Schilling had the excitement of an 11-year-old boy who'd found a playmate exactly like himself, Beckett paused and did something rather Schilling-like. He turned, cupped his glove next to his mouth to help the sound travel, and yelled to Hickox. It took a couple attempts, before Hickox, cracking a smile, turned to Beckett. Thanks, he said. Or something like that. -- Chris Snow, Boston Globe, April 2006
Compounding my twitterpation over Papelbon is the way Schilling watches him, hanging over the dugout fence and hollering criticisms toward the umpire (today's umpire, Phil Cousins, had already sent Rodrigo Lopez back to the dugout screaming and spitting mf-bombs) when he feels his boy's being squeezed. I love the way Schilling has latched so quickly onto Papelbon, and seems ready to tear into anyone who threatens him, umpires included, like a grizzly bear with its cub. (In general, I am charmed by Schilling's patriarch status in the clubhouse with all these young pitchers, and made giddy by the little moments of Schilling cheering on his charges like he's their Dad.) -- April 2006
as I watched one Red Sox batter after another suddenly find a way to get on base, as the crowd was on its feet, clapping, chanting, I was proud to be a Red Sox fan. I peered through my binoculars again to watch Beckett's reaction, which seemed just on this side of panic--that guy's wound pretty tight as it is, and sometimes I wonder if he's going to be able to deal with the atmosphere. Where before he had been content to just lean placidly with Schilling, spitting occasionally, now he seemed to be alarmed, asking Schilling rapid-fire questions. Schilling was smiling at him, nodding. They could have been exchanging recipes for top-shelf margaritas, for all I know, but I chose to interpret their interaction as Beckett saying in wonder, "Is it always like this?" and Schilling answering, "No. Sometimes it's even louder." --April 11, 2006
Schilling looked brilliant tonight. I loved watching his intense stare through the rain as he looked the runner at third back while in the midst of the complex and delicate business of striking out Ichiro. (Oddly enough, Schilling actually spoke to Terry Francona in the dugout tonight; I'd love to know what he found important enough to break his pitching-day grump for.) --
April 14, 2006
Curt Schilling has been reborn as the heart, soul and fury of the team.
After two games in which our starters got slapped around like a fat kid in a monkey suit, the Schill Dog reasserted himself as the Prince of Route 109, striking out seven -- including a critical punchout of Ichiro with the tying run on third in the sixth. His ERA is a paltry 1.64, and in last night's incredibly non-ankle-friendly conditions, he got more bad-ass as the evening progressed. When can we finally say it's not a fluke? When can we finally admit the dude's back in the saddle, calling the shots, lovin' the ladies, and bringing the pain? --
Red
(photo by Sam)
Papelbon came within a razor's edge of his fall from grace tonight, walking two and allowing a base hit for loaded bases by the time he gave up a long fly ball to shallow center, which was somehow, in a COMPLETE MIRACLE, gloved by Stern and brought into the webbing of its glove within a micrometer of hitting the ground.
Meanwhile, Schilling, it seems, came within a nanosecond of just jumping over the dugout rail, sprinting out to the mound, ripping the glove off Jonathan's hand, pushing his way in front of him, and barking, "I'll take care of this. NEXT." I don't think Adam Stern was even back off the ground yet by the time Schilling had reached Jonathan when it was finally over. That is definitely a weird kind of pseudo-parental relationship right there.-- April 18, 2006
I was reminded of an experience I had in college, watching Curt labor through a 200th victory that wasn't all that pretty. As a music major for my first year and an active member of Music Dept. social circles every year thereafter, I got exposed to a lot of the philosophical side of music and its demanding lifestyle. Often, as a decidedly un-athletic person, the things I experienced as a musician (of sorts) are the only analogy I have for what I see in sports.
When I was a sophomore or junior, a world-class instrumentalist came to teach in the department. I didn't study with him, but I did play in the ensemble behind a tour de force solo performance he gave after officially reporting for duty as a professor. And this concert--it's one of my lasting memories. One of my own movie moments. It's almost impossible to describe the beauty of how this man played one of the most difficult pieces in the repertoire for his instrument; to this day thinking of it or listening to the recording I have of the piece can bring tears to my eyes.
Meanwhile, there was a graduate student on the same instrument who'd been with the department for a year or so, who had also proven himself a solid, if not as gifted, instrumentalist. Forced to study under the virtuoso, who had been a child prodigy and toured the world as a soloist before settling down at UMass to teach, this graduate student soon began to suffer. Because--as he told a mutual friend he and I had, who told me about it--the virtuoso couldn't teach. He would tell the student that what he was doing was wrong, and then demonstrate on his own instrument, and do exactly what the student had been doing in the first place. Astonishingly, he seemed to have no idea how he played the instrument, while the student had had to be very clear and conscious about his technique. It bothered the student to no end that he was forced to study with the virtuoso--the two were clearly such different animals when it came to their instrument that they couldn't communicate.
And you know--I always preferred the sound of the graduate student when he played to the virtuoso, undeniably gifted as the latter was. Because in the sound of the graduate student was not only good intonation and technical work but the sound of the thought and labor he had put into learning what he played. There was a sweeter tone to a hard-won sound.
To me, if pitchers can be divided up into virtuosos and graduate students, Curt Schilling is the consummate master's degree candidate in pitching. He doesn't have the gifts of a Pedro Martinez or the brilliance of a Roger Clemens--he will tell you himself he lacks that pure, raw talent.
But what he has is enough physical talent to begin with, and then enough determination and appreciation for the task to perform at a higher level, maybe, than he has any business occupying. And like that graduate student I remember from college, it's sweeter, sometimes, watching him perform.--"Curt(ain) Call", May 2006
First of all, Schilling said himself he was done after the eighth inning. Like the famous 133 earlier this season, though, there are some who feel Francona needs to "take charge" and "not let Schilling call the shots". Which to me is bullshit--Schilling knows how his own arm feels; if he says he's done, he's done. But let's say Francona sent him back out anyway and he'd gotten bombed. Or, worse, hurt his arm. Which is the greater loss? Letting Schilling, who's told you he's done, get shelled and possibly hurt? Or taking your chances with the bullpen? Isn't the former the reason we fired Grady Little? --"Yes, I'm still harping on this", June 14, 2006 (The Great Tito Debates of Aught Six).
The biggest difference between Schilling and the other pitchers, now that I've experienced his day to pitch, is how everyone talks to him constantly in the stands. They call him "Schill" and "Curt" and "baby" and "buddy" and "boy" as in "atta boy". Red Sox fans in the stands at Fenway talk to Curt from their seats like he can hear them, and like he'll respond--and he does respond, by reaching back for 95 and striking the motherfucker out. When he does so, the fans continue their chatter in praise and encouragement, to let him know he's on the right track. "Atta boy, Schill, all right, atta baby." --"A duel of two nightengales", June 30, 2006
Seconds after Curt Schilling reached back like a pimp, and struck out Tomas Perez, as Joy of Sox
put it
, "on...pitches of pure gas," my friend Ryan encapsulated the sound effect of his lunging, tumbling, fist-pumping punchout with an imitative shout of: "
MMMMMM-GAH!!!!!!!!"
I think that about sums it up. "Captured," August 5, 2006
I was also amazed, once again, by the defense in this game, in particular the top of the sixth, when in the course of one fielder's choice by Mike Lowell, runners on second and third with no outs became one out, men on first and second. After that came a flyout to left and a groundout back to the mound--or, well, the mound area...well, it was at least Schilling's ball to cover, and he did, flinging his body around midair after snatching the ball off the turf and winging it desperately to Youkilis, who dug it out at first for the final out as the crowd's roar built to a crescendo and Schilling pumped his fist and yelled.
Every moment I have like that, I tuck away in my soul to take out sometime mid-February, when the idea of any baseball, even losing baseball, makes me salivate. Every time I get to be at Fenway for a moment like that, I try to show the proper deference and gratitude to the baseball gods.--August 15, 2006
I really don't know what to say right now. I'm angry with Curt for, as Denton points out, negotiating through the media, though I'm not surprised. I'm angry with Red Sox ownership for paying to field JD Drew and balking at locking Schilling in for another year. I'm angry with Curt for pulling a Roger Clemens and then just expecting the Red Sox to rearrange their plans around it. I'm angry with the Red Sox for quibbling over $13 million for their World Series hero. I'm angry at the thought of another of The 25 finishing his career elsewhere--when that career is so close to over, you'd think it would be easy for the Sox to just extend the contract. Basically, I'm pretty pissed off at both sides; the long and short of it is I think the way Curt has handled it has understandably put off the management, but I think Theo might also be cutting off his nose to spite his face over it. Also, there has been the infamous "I would never play for the Yankees" speech already, at which I simply put my fingers in my ears and go LA LA LA...February 27, 2007
This was the passage in Schilling's essay (and holy shit, Curt, could you stop being both a major league pitcher AND a more prolific blogger than me? Could you cut me some slack, here?) that stood out to me:
Marquis Grissom flat-out owned me. I couldn't get him out no matter what I threw or where I threw it. Vuk would tell me day after day, "Fastball in Schill. He can't hit it." I tried, but nothing seemed to work. One day in Montreal I throw a fastball in on his hands, explode his bat, and he grounds out. I peek at the bench and Vuk stands up, bows, and doffs his cap.

We're in Three Rivers Stadium playing the Pirates. Jason Kendall has had some success off me, and Vuk keeps harping, "He can't hit a curveball, Schill." We've argued about this at least 50 times. Seventh inning, Kendall at the plate, first pitch curveball, home run. I look over at the bench, and Vuk is shaking his head. I am so mad I can't see straight, blaming Vuk for throwing a bad pitch. . . .

The inning ends. I walk into the dugout, pass Vuk without looking, and hear, "I said curveball. At no time did I say the word HANGING curveball."
I wonder if Schilling realizes just how amazing it is for a fan with no exposure to the inner workings of mound conferences and dugout chatter to read something like that.-- March 9, 2007
Millar responds with his own account of the at-bat, complete with Schilling's parenthetical snark. Observe:
1st ab he shook 3 times and I had a feeling he was shaking to the curve ball but still didnt have the balls to sit 1st pitch curve ball on Schilling. Then, I did call time out, telling Tek "What the hell is Schill doing shaking to the curve ball?", and bam! sure enough here came this hanging curve ball (Curt: I beg to differ, the first one wasn't hanging) I watched for strike 1, and couldnt pull the trigger. Then schill came back with another (Curt: which I did hang) whiched I pulled foul (Curt: into the vendor selling lemonade, which for anyone sitting along the 3rd base dugout knows is no surprise, Kevin hooking a pitch foul) and yes he threw the 3rd one in a row which I layed off. --March 24, 2007

Curt Schilling gave a disconcerting performance, indeed--he wasn't just hit but hit hard, all over the ballpark. It's hard to tell at this point exactly what the problem was..."I stunk and didn't improve and got worse," was Schilling's analysis in front of the NESN microphones. Maybe it's as simple as that. --Opening Day, 2007
"And the Big Daddy, Curt Schilling, is on the bump for the Sox today." That's how guest announcer Jonathan Papelbon finished off his introduction of the Red Sox lineup this afternoon on FOX. -- April 14, 2007
Since faltering on Opening Day, Schilling has made the adjustments necessary to rack up 14 consecutive scoreless innings. Making the correct adjustments are, in the end, all you can really ask of a pitcher--and Schilling is still better at it than anybody. You need a guy like that on a staff full of young firerballers; no pitching coach in the world is going to be as effective as a guy who can walk the walk. --"Counting Some Blessings", April 15, 2007
And Curt has Josh. After the game was over--after Beckett, clearly more relaxed by the grand slam*, came in and just blew guys away left and right before departing--Schilling and Josh kibbutzed in the dugout. Curt looked over at his protege, listening intently to something he was saying. And for just a second, Curt had a look on his face like he would carry Josh around in his mouth by the scruff of his neck if he could. Just like Papi had hugged Wily Mo about four times after the granny. It's like they all have their little cubs. --April 2007
Today, Curt was solid until the 6th inning, when some among us felt we saw Tito fall off the wagon, dip-wise. It got that bad. Curt's appearance ended when he threw a tantrum at the home plate umpire about the relative outside-ness of a pitch, which became ball 3, and was followed by ball 4, to walk a run home. After that, Schilling was lifted, his mental fuses blown. --May 13, 2007
What Schilling did yesterday wasn't always pretty, but it was the mark of a veteran pitcher. Time after time he made balls-out pitches to get out of tough spots, much of it brought on by his own spotty location, but another generous portion of the problem was attributable to some terrible defense, most notably Wily Mo in left field, who made Manny look like Fred Lynn last night. -- May 17, 2007
And then we have Curt. The fact that it is Beckett and not Curt chosen to face off against Roger in my opinion is an aspect of this week that should not be overlooked. It's true that the rotation this week falls into line with the "regular" rotation over the last couple of months with Beckett following Daisuke, but let's not forget all the Lester / Buchholz / Tavarez machinations already taken by the team in order to line up the pitching for this week, and tonight's off night. If they really wanted to, they could have put Curt in that slot, and they didn't. That's as much of an overt torch-passing as I think you're going to see.--August 27, 2007
As the dugout emptied for handshakes, Curt Schilling walked up behind Buchholz and patted him on the back, as Pedroia had. Curt's pat, though, reminded me a little of a moment last season when Jason Varitek touched Jonathan Papelbon following a save in August. Like he just wanted to make sure he was real.-- Sept. 7, 2007
The celebration last night was subdued. The Sox took the unprecedented step of barring media from the clubhouse for quite some time after the game, an idea I actually thought was a good one. I'm glad to see the somber expressions of interviewees Curt Schilling and Eric Gagne when talking about the postseason clinch. I'm glad to see them at least parroting the time-honored platitudes about how they still need to go out and get the division.
Curt Schilling's statements were the closest to matching my own feelings on the matter, when he was interviewed while pulling on his socks in front of his locker by Tina Cervasio.
"We're happy, obviously," he said. "But we've spent six months earning our way to the top of this division, and we want to win this division. So that's the focus over the next couple of days." -- Sept. 24, 2007
But by far the absolute best series of moments in the last 48 hours? Was the five or so minutes in which Mike Timlin, Curt Schilling and Tim Wakefield--the grande dames of the pitching staff--let their tender love for Varitek shine forth brilliantly in the form of kisses (Timlin and Wake) and booze showers. The part that still makes me so happy I get all squirmy, though, was the part where Curt Schilling was spraying Tek down thoroughly with champagne and Varitek did this laugh...this childlike giggle...and even better than that? Is the thought that Timlin, Wake and Schill may have been trying to elicit that laugh all along. --Sept. 30, 2007
Given how little of the game I saw, there was really only one standout moment for me: the moment Curt Schilling delivered the final pitch of the seventh inning. 
He'd reached a full count on Mike Napoli, the first time he'd reached Ball 3 on a hitter since an intentional walk to Vladimir Guerrerro in the bottom of the third. Given how much Curt relies on precision these days, this was a somewhat unsettling development. Napoli, representing the tying run, did not go down easy, fouling off another pitch right after the count went full. Visions danced in my head, I'm sure you know of what. Of meltdowns and big innings and letting the Angels get their foot in the door. Of slow hooks and Francona-roasting in the papers and questions about the viability of Schilling's career.
All of which were silenced by the pitch Curt threw next, an 85-mph split (I think) that completely fooled Napoli, who swung clumsily to end the inning.
There's a reason Curt Schilling has the best postseason winning percentage of any pitcher ever to play the game. There's a reason he's almost always come up big. What we're learning this year is that it may not have had anything to do with a 95-mph arm. It's also got to do with those notebooks he carries, all the numbers he crunches, the no-doubt long late-night hours spent hunched over spreadsheets on his computer. It's got to do with that look on his face when he takes the mound with the hopes and expectations of all of his teammates and millions of fans riding on his shoulders. It's got to do with the reasons he takes that cross out from under his shirt collar before every first pitch.
It did my heart so good to see all of that effort, all of that self-revision, all of that refinement and adjustment he's made this season come together in this one game, that one pitch--to seal the deal for his team, to seal the seven-inning shutout for himself, to seal the hopes of the Nation for the series. Seeing him come roaring off the field like the ace of old made me happy on a level that has little to do with baseball--and more to do with watching someone, in any endeavor, struggle both nobly and mightily, and finally succeed.--October 9, 2007
Thank God.
Thank God Curt Schilling isn't walking out of Fenway with an ALCS Game 6 loss to counterbalance his 2004 heroics. You know that if he'd failed, the two games would've been proudly displayed as bookends within any and all media coverage on him for the rest of his career. If the Sox had lost that game yesterday, that would have been among the tougher things to take.
It's not just that I've been a Curt Schilling apologist almost since the moment he set foot in Boston; it's not even necessarily for his sake that I was rooting for his legacy to remain intact. It was his legend and what it means to Boston that I was rooting for. It was the unbroken storyline.
If anybody is paying attention to the "Currently Reading" feed over on the sidebar, they might be forgiven for mistaking it for a feed of Surviving Grady posts. I only realized fairly recently that I was bookmarking practically all of their posts over there over the last few weeks. But hey. That pretty much sums up how good they are.
So, to find the first words to describe Schilling's performance, it is to another SG post I point today, the goose-bump inducing treatise by Red previewing Curt's game:
Who's gonna let the 2007 season end on a Saturday night, when the Lord's day is just a couple hours away?

Who's gonna rest on his laurels and bloody sock and allow what could be his final appearance in a Red Sox uniform to be remembered as the game that saw our ALCS dream crash and burn?

Who's not gonna leave every ounce of blood, sweat and Miller Genuine Draft on that mound so that we can live to die another day?

F@#k that noise.
Red was confident before the game, but I wasn't, not quite so much. It's like I was telling people all week--I believe 110% in Curt's heart. Or, as my mother put it, "if there's a way for him to do it through sheer determination, it will happen."
But that was a very big 'if.' All the spirit and discipline in the world doesn't turn back time.
So to see him live up to those defiant predictions quoted above? To see him come up nails just one more time, walk off the field being able to honestly say he has never let us down, not when it truly mattered? That means the world to me, to say nothing of what it must obviously mean to him.--October 21, 2007
He held off the Rockies for five and a third, but with one out in the sixth was finally lifted with two baserunners on and one out. It was clear he had nothing left, from the way he kept shaking his head, ashen-faced, and saying to Tito over and over again, "It's my fault."
But all around him, even as he walked off with the game still hanging in the balance for Okajima, the Fenway crowd was rising to its feet.
Curt began his descent from the mound and the roar gathered. There was an audible collective inrush of air as people filled their lungs to fuel the noise. It had the feeling, as Curt took his first steps across the infield, of undertow sucking the water line away from shore before a tidal wave.
That wave broke as Schilling doffed his cap, first to the right-field side, then to the left-field side, slowly lumbering toward the dugout and gingerly pausing at the baseline. He still looked somewhat morose, the situation he was leaving behind for Oki clearly weighing on his mind. But as he doffed his hat, his eyebrows furrowed. The grim line of his mouth wavered a little. His eyes shone.  He and I both swallowed hard.
"Bittersweet" doesn't begin to describe the feeling I had watching that scarlet "38" disappear into the dugout last night. It will never be the same team without him.--October 26, 2007

(photo by Marcfoto)
I was so caught up in the pitching machine that I almost missed the other highlight of the exhibit. I had originally stuck to one side, thinking we would loop back around and I'd catch the other side on the way back. That turned out not to be the case by the time I got to the pitching machine, which was just before the gift shop and exit. At the last minute I decided to go back and just glance at the things I'd missed quickly, more out of my usual weird brand of compulsive perfectionism than anything else.
This time, it turned out to be an asset--what I would have missed had I not gone back was nothing less than the Bloody Sock itself, which was mounted at the center of one case along the wall I'd skipped. 
Other people in the group of family and friends I was with had heard the Sock would be a part of the exhibit, but I hadn't. It even took me a few minutes of reading the tiny plaques next to Clay Buccholz's hat and David Ortiz's jersey surrounding it before I looked, and double-taked, and realized what I was looking at.
For one thing, I wasn't prepared for how big it was. It was easily three or four times the size of any sock I've ever encountered. I guess there's a reason Pesky calls Schilling "Big'un."
And, of course, there was the blood. It was clearly blood, not something I've ever not believed, but it helped to finally see it with my own eyes.
All I can say is, it would've taken a world-class painter to create the Sock artificially. Actually, there would have to have been two socks, to be accurate, one with bright red markings worn during the actual game, and this one, with the same stains in the same place but dried to maroon and brown, with varying degrees of depth to the stain. You know, as if someone bled into it through various apertures on the uneven surface of an ankle bone, to varying degrees of saturation.
Do I believe in a vast Right-Ankle conspiracy running that deep? No, I do not. 
But apparently even in Boston there are some who have been taken in by the libelous work of Baltimore beat writers and TV announcers. "That's not really blood," a guy next to me said to a little girl by his side. "Just ketchup." Then the two of them walked off.
I didn't say anything, but I can't front like it didn't help that he left right away.--July 12, 2008
They're replaying a game against the Orioles from September 21, 2004. Curt Schilling on the mound for the Sox. But not the Curt Schilling we're dealing with now. We're talking Curt Schilling Curt Schilling. I'm shocked at how young he looks.
The Sox come up to bat and it's Johnny Damon at the plate leading off. We are far enough away from this era now that this startles me at first. That thought in turn unleashes a flood of nostalgia. Guess I know what I'm watching tonight.
Bellhorn comes up. I am charmed to hear a chant start: "Let's go, Bell-hoahn. Let's go, Bell-hoahn." You can hear the Boston accent in a shouted chant. I am fondly reminded of the graffiti I found in a bathroom in Kenmore Square the next year.
Bellhorn grounds into a double play. I am reminded suddenly of many, many additional things about Mark Bellhorn. Boos are heard faintly from the crowd. The Bellhorn Era was a crazy, schizophrenic time.
Manny makes a mighty hit to right. Papi walks. Manny's batting third. And he has what looks like practically no hair at all, but I remember how we all thought his hair was like, sooo crazy. Little did we know.
A little while later. Miguel Tejada, new to Baltimore, still pretty pissed at Derek Lowe, at bat for the Orioles.  And then, a voice comes out of the crowd.
"YOU KNOW IT'S COMIN', MIGUEL!" a male voice stands out above the rest of the crowd, probably just dumb luck its owner is seated near a NESN crowd mic. "YOU KNOOOWW IT'S COMIN'!"
Tejada, surprisingly, looks perturbed. I can't tell if he can hear the heckler and it's actually bothering him, or if he's upset about something else. But the heckler seems encouraged.
"IT'S GONNA BOUNCE IN THE DIRT! AND YOAH GONNA SWING AT IT!"
Schilling winds, kicks, delivers. Both the pitch and Tejada do precisely what the heckler has just predicted. Precisely as the pitch comes in, with the tone of an incantation, comes the cry, "THE SPLITTAHHH!!"
The crowd erupts. Above their roar, faint but rapturous, the voice can be heard, still triumphantly screaming. "HOW WUZZAT?! HUH!?! HOW! WUZZAT!!?"
At the time I first watched this game, I was probably annoyed with this guy and the fact that his annoying mosquito-voice was in my ear on the TV when I was trying watch my man work, goddamnit. But now, he gives me goosebumps.-- August 9, 2007
The game always gave me far more than I ever gave it. All of those things, every single one of those memories is enveloped with fan sights and sounds for me. Without the fans, they would still be great memories, but none would be enduring and unforgettable because they infused the energy, rage, passion and "feel" of all of those times. The game was here long before I was, and will be here long after I'm gone. The only thing I hope I did was never put in question my love for the game, or my passion to be counted on when it mattered most. I did everything I could to win every time I was handed the ball.
I am and always will be more grateful than any of you could ever possibly know. Curt Schilling, 38 Pitches, March 23, 2008

(photo by Sam)